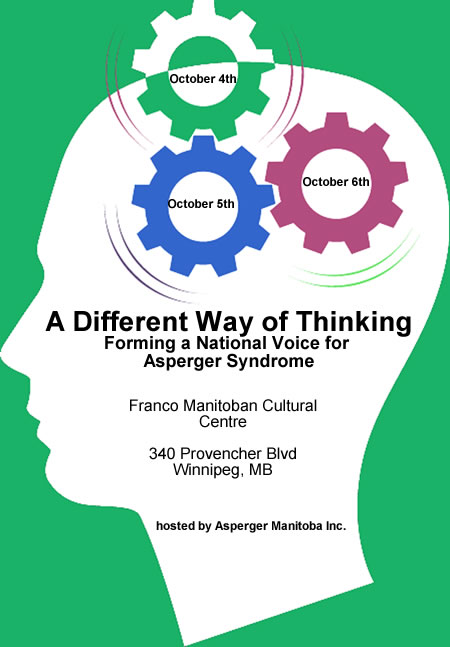 Keep returning for more information as it becomes available
Please note that we are unable to accept walk-up registration or payments.  All registration and payments must be received by September 27, 2011.  If we have not received your registration AND payment by September 27th, 2011 you WILL NOT be able to attend the conference.
Download a registration form.
Out of Town Guests may contact the Norwood Hotel, 112 Marion Street, Winnipeg, MB R2H 0T1, (204) 233-4475 and book accommodations at a discounted rate.  Just mention than you are attending the Different Way of Thinking Conference and Asperger Manitoba Inc.
Social media – Opportunities to present feedback for the World Cafe will be made via Facebook and Twitter.
A Different Way of Thinking
Join us for the President's Reception
Sponsoring organization Asperger Manitoba Inc. hosts a Manitoba-Made reception featuring food, drinks, displays and the opportunity to meet and greet guests, speakers and dignitaries.
Keynote: Dr. Tony Attwood
World renowned expert on Asperger Syndrome, Dr. Tony Attwood,will provide two thought-provoking presentations entitled:
"Managing Feelings: Cognitive Behaviour Therapy to Manage Anger, Sadness and Anxiety" and "Cognitive Abilities: A
Different Way of Thinking and Learning Profile. "
He has an Honours degree in Psychology from the University of Hull, Masters degree in Clinical Psychology from the University of Surrey and a PhD from the University of London and is currently Adjunct Associate Professor at Griffith University in Queensland.
Tony has written several publications on Aspergers Sydrome. His book, "The Complete Guide to Asperger's Syndrome, " has now been translated into several languages.
The Discussion Continues:
Join Brendan Newton, Sebastian North, Quinn Senkow, Dr. Janine Montgomery, the Manitoba Supported Employment Network and many others in discussion on children, adults, education and employment.
World Cafe and final plenary – facilitated by Anne Kresta and members of Asperger Manitoba Inc. will bring together the knowledge and experience that each participant has gained while working and living with Asperger Syndrome and formulate some meaningful next steps for those affected by Asperger Syndrome.
To learn more about The World Cafe, visit
www.co-intelligence.org/Pworldcafe.html.
Presented with support of: